Good Leaders Lead, Great Leaders Follow
Leadership is not just about knowing, showing or paving the way. It's about … well actually the exact same things that great sex and true intimacy are about. But, please: Discover for yourself. 
For almost a decade of my life I've been leading leaders.
I was supporting public speakers, actors, sportsmen, scientists, doctors, psychologists, entrepreneurs, coaches and consultants, in writing their books by leading them through the whole process, as this was a completely new field for them. So they needed guidance each step of the way.
My favorite part was about interviewing them to get to the core of what they had to say. To the goldnuggets that only they could express. To their unique magic.
It all started when I was 26.
Basically a girl.
I still wonder how I did it.
All these apha-men (and a few women) were surrendering to my questions. I kept asking myself: 'How come they're trusting me?' I'm not a mama-bear, I've never led a business of my own and I'm obviously not an alpha-woman.
What the f***?
It took me a while to understand that the one big reason why they allowed me to lead them, was because I was not an alpha-woman.
Yes, I knew what I was doing.
Yes, I had total clarity about the process.
And yes, I had developed what they call leadership skills.
But the more I tuned into when these people all started to relax and open up, the more I understood the mechanism behind it. So here are the reasons why a bunch of strong men chose to follow a young girl:
No. 1. They felt seen and heard
Other than my colleagues, I would listen to my prospects for quite a while without interfering.
This was because I wanted to truly understand.
I would ask questions to get to the bottom of things.
If the pieces didn't make sense to me, I'd address the chaos in my head and ask them to clarify. I'd keep up with my questions – until I really got it.
Little did I know that my need for deep and complete understanding meant receiving lots of personal attention for my prospects, which made them feel at ease, fully seen and heard.
It also created a safe space for them to share even more freely than usually, which made conversations become intimate, easy, freeing and fun.
No. 2. They chose to lean in
If there's one thing I hate, it's rushing or pressuring people. Because I hate being rushed and pressured myself, LOL. So what I naturally did, was to follow them in their stories up to the moment they literally begged me to lead. I have vivid memories of the magical moments when all of the sudden they wanted my opinion, had all these questions or craved to hear everything about the next steps.
Back then I was just following my intuition. What I did wasn't a conscious choice. Nor was I aware of the fact that my ability to first follow and then lead (and switch back and forth depending on what was needed) was in some way my success recipe.
It's only after becoming an intimacy coach and going deep into polarity work that it dawned on me:
If you want to lead like a rockstar, you first need to follow like a tango dancer.
Why?
Because leading means creating an incredible experience for someone. It means serving them in such a way that they get to walk a rocky path with ease and pleasure.
For that it's not enough to know the way. You need to especially know the person you're guiding. And the best way to get to know them, is by following them.
By the way, this is true whether you want to lead a team, a family, be the dominant part in a kinky sex scene of just be amazing at making love to your sweetheart.
Leading and following are the same
Here's what I've learned in my extensive sex and intimacy trainings as well as on my own exploration path: The only way of stepping into your authentic leadership power, is by surrendering to a great leader (or more!).
You need an embodied experience of being the follow or the sub before you can even consider finding your own style of doing leadership – or being a Domme.
You also need to understand that every human is different. Each person you lead will need something else.
If you're not yet able to "read" your client or your partner, stop.
Ask questions.
Be interested until you become attuned.
That's when you can consider stepping into leadership.
But if you want a hot tip: wait for their invitation.
Don't lead because you want to. Lead because they ask you to.
Oh, and meanwhile, why not be your own best leader? Why not tease yourself … with feathers or with flowers?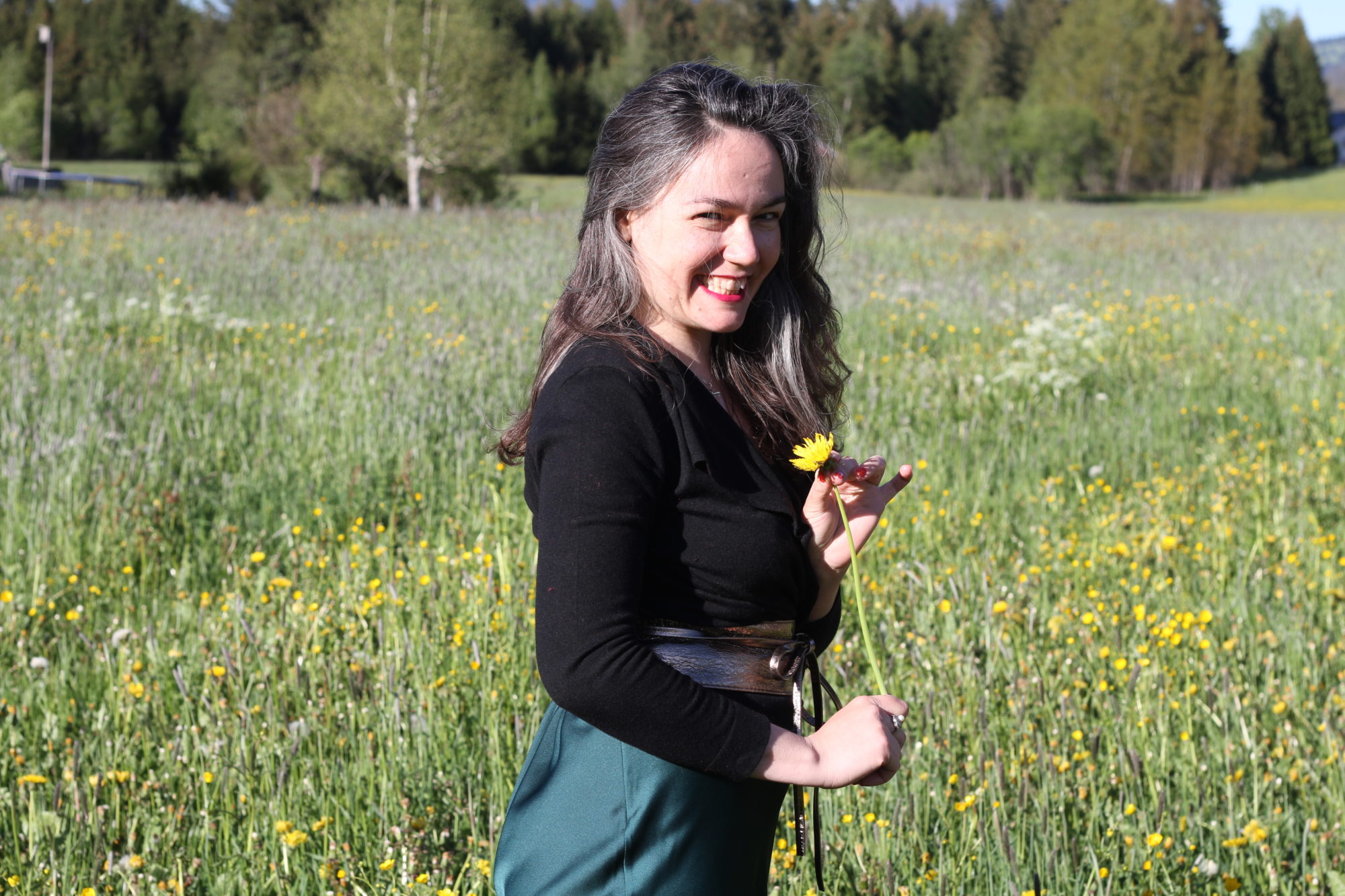 May I ask you something?
How ready are you to surrender to you?
If you'd like to become even more of a heart-centred leader – in life, business and in the bedroom – feel free to reach out and let's have conversation.
I currently have openings for 1:1-coaching starting July.
Mehr davon?
Wenn du bedingungslose Liebe, Intimität und eine erfüllte Sexualität erleben möchtest, abonniere meinen Newsletter. Du erhälst kostenfrei frische Impulse für dein erfülltes Liebesleben – und all die Specials, die nur an meine Abonnenten gehen. 
Photos: Nora Bretting